Constant Tension Hose Clamp Suppliers Germany
---
Curated to adapt to the constant temperature fluctuations & to develop a innate resistance to extreme temperatures the jolly constant tension hose clamp is designed to do all that and more.We rank amongst the top constant tension hose clamp suppliers in Germany with perseverance backing us.This constant tension clamp operates in zones where there is a constant temperature fluctuation.
---
Jolly constant Tension Heavy Duty Lined Worm Drive Clamp is designed as per SAE standard for Heavy duty applications where fluctuation in hose diameter due to thermal & Pressure variation is key concern.
Constant Tension HD Worm Drive clamp works on principle of Worm Gear action where gearing action between clean punched perforations & thread of Hex Head Screw enables tightening or loosening of clamp on the application.
Constant Tension Belleville Washer stack compensates for Pressure & Temperature variation in hose line eliminating chances of loosening of clamps grip on hose & avoid seepage.
Strong & rigid two piece housing construction ensures suitability of clamp for Installation torque upto 8.5 Nm & Ultimate torque upto 11.5 Nm whereas liner prevents direct contact of perforations with hose which prevents hose biting at high installation torque.
Jolly Heavy Duty constant Tension clamp is available in a wide diameter range option & various material grade combinations to best suit the application.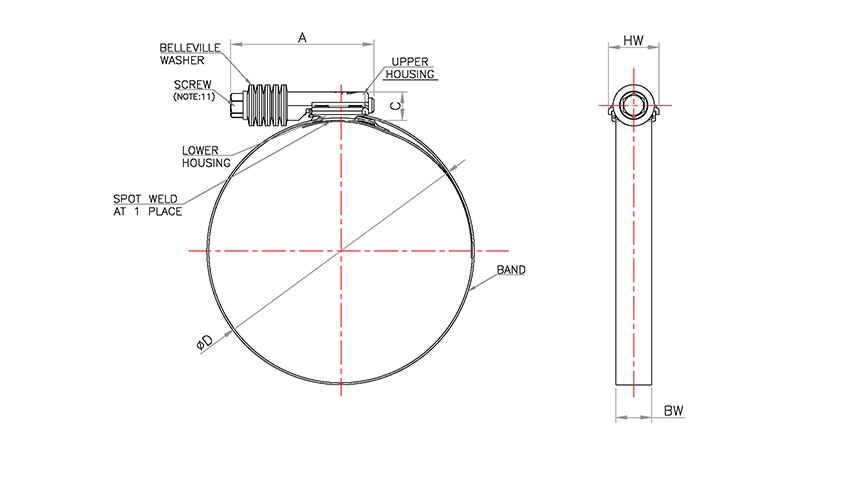 Jolly Heavy Duty Constant Tension Lined Worm Drive Clamp series products are made with material grade of AISI or equivalent global standards to provide high quality & consistency in performance.
Heavy Duty Constant Torque Worm Drive Clamps are available in entirely SS300 grade series as well as available in SS316 grade which is suitable for Marine applications.
Jolly Constant Tension HD Worm Drive clamps are also available in SS300 grade Series with a combination of screw made of material SS410 grade/ plated carbon steel with the option of Hexavalent & Trivalent.
Zinc plating as per Industry & Global Export Standards whereas Belleville washers are generally made in SS-300 series unless special requirement specified.
Industries and Applications
Jolly Heavy Duty Constant Tension Worm Drive Clamps serve in a wide variety of Heavy Duty industries while meeting industry specified demand & keeping edge over Quality product supplies. Our products commonly used industries and applications such as:

What Makes Jolly Different?
Amongst top serrated clamp service in Germany, Prospect Engineering Works is an Indian manufacturing firm that is IATF 16949, OHSAS 18001, and ISO 14001 certified. We are a young firm with 52 years of experience that provides JOLLY brand clamping solutions to more than 80% of OEM and Aftermarket as well as several institutional clients worldwide. We are a devoted clamp manufacturer with a focus on custom clamps and a commitment to quick turnaround times catering to USA clients.
With expertly engineered clamping solutions, the constant tension hose clamp's application-focused design and flexibility to improve overall product performance is amongst the best in Germany.The one way serrated clamp designed as per German standards is also suitable for applications with high mechanical load.Jolly clamps being the flagbearer of serrated clamp service in Germany provides a wide variety of diameter ranges.The best part about it is the fact that it can be customized as per customer requirement.To ensure high quality & consistency in performance, Jolly constant tension hose Clamp series products are created with material grade of AISI or comparable global standards.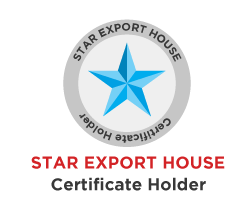 A Government of India
Recognised Star Export House
We live by our commitment to our clients.
Unmatched Quality:
With unmatched quality assurance backing our production,delivery & ongoing services in the US, we believe in leveraging the tech-driven inventory & production management systems.
Exceptional Service:
At Jolly, we consider our clients to be partners. By paying them the attention they deserve and thoroughly getting to know their businesses, we give our customers the security they need.
Rapid Delivery:
With a government recognized star export house, we effectively take shipping and delivery speed to the next level since we never run out of stock while keeping your supply chain in mind.
JOLLY CLAMPS
Enquiry Now
Connect with us today for the best-in-class customized clamping solutions!