Reducer Flexible Coupling-CR
---
Jolly Reducer couplings, are designed to connect pipes with different outside diameters – connecting larger diameter pipes to smaller diameter pipes and vice versa. Jolly Coupling clamps are available in various sizes to best suit the customer applications.
---
Jolly Reducer Coupling are made of three components: one stepped moulded EPDM rubber sleeve and two stainless steel worm type clamps
EPDM Rubber Sleeve- It is a one-stepped EPDM moulded rubber sleeve with two different diameters on each side to incorporate two different diameter pipes
Stainless Steel Band Clamps- One clamp is incorporated on each side of rubber sleeve. Both are of different diameter to suite moulded rubber part & pipe diameter, tightening of same creates a secure connection.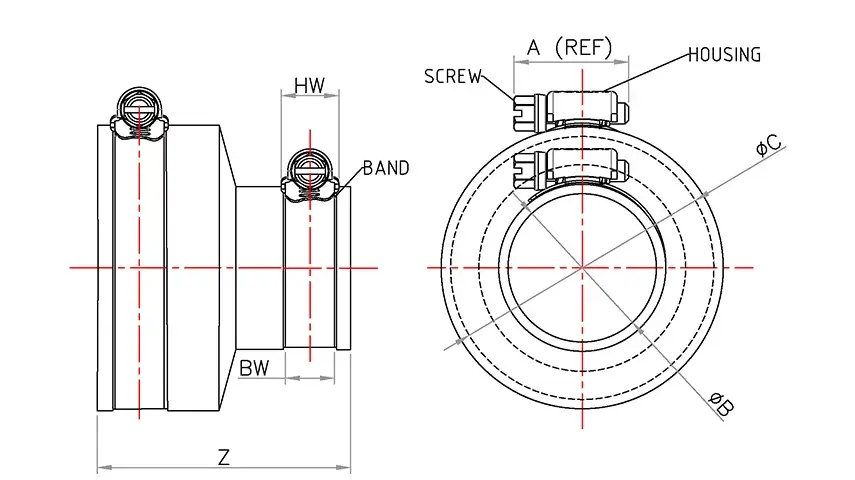 Industries and Applications
Jolly Reducer Couplings serves in a variety of industries while meeting industry specified demand & keeping edge over Quality product supplies. Our products commonly used in industries and applications such as:
Jolly Flexible Reducer Coupling Clamp series products are with material grade of AISI or equivalent global standards to provide high quality & consistency in performance.
Jolly Reducer Couplings are available with Clamp in SS300 grade series & inner Rubber Gasket in EPDM.
What Makes Jolly Different?
Jolly Clamps Pvt. is an IATF 16949, ISO 45001 and ISO 14001 certified, RoHS compliant Indian manufacturing company which is one-stop for all your Clamping requirements. We are over 5 decade-old, young company catering JOLLY brand clamping solution to over 80% of OEM and Aftermarket in India and many institutional customers globally. We are a proud Indian clamp manufacturer who specializes in customized clamps and believe in lowest lead time.
JOLLY CLAMPS
Enquiry Now
Connect with us today for the best-in-class customized clamping solutions!