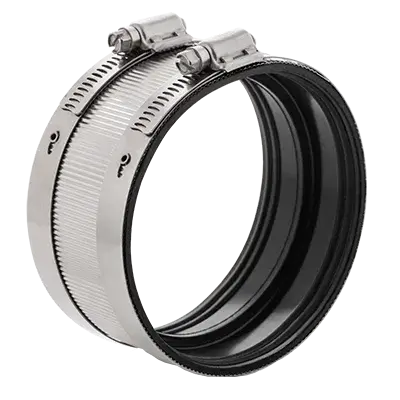 No Hub Coupling-CA
---
Jolly No-Hub Couplings are designed & manufactured to replace less efficient hub & spigot material & connect no hub pipe & fitting in drain, waste & vent applications.
Jolly Coupling clamps are available in various sizes to best suit the customer applications.
---
Jolly No-Hub Coupling includes three components: a Specially beaded gasket, External metallic shield & worm drive clamp.
Specially Beaded Gasket- It has an elastomeric compound with grooves and beads strategically positioned on its surface. When tightened, the metallic shield attaches to the grooves and beads of gasket to provide sealing pressure and secure coupling joint.
External Metallic Shield- The shield adjusts as per variety of a pipes diameters and circumferences to eliminate leaks. The corrugations of metallic shield seals pressure on the gasket and pipe to provide a reliable & secure joint.
Worm Drive Clamp- works on principle of Worm Gear action where gearing action between clean punched perforations & thread of Hex Head Screw enables tightening or loosening of clamp on the application.
Heavy Duty Two-Piece housing construction of clamp makes coupling suitable for high torque applications.
Floating Eyelet Design- The floating eyelet allow the band of clamp & metallic shield to move independently while fasten to each other. This free movement prevent crimping of shield & future leakage.
Jolly Coupling Clamp series products are with material grade of AISI or equivalent global standards to provide high quality & consistency in performance.
Jolly No Hub Couplings are available with Clamp & Shield in SS300 grade series & inner Rubber Gasket in EPDM or Neoprene Rubber.
Industries and Applications
Jolly No-Hub Couplings serves in a variety of industries while meeting industry specified demand & keeping edge over Quality product supplies. Our products commonly used in industries and applications such as:
What Makes Jolly Different?
Jolly Clamps Pvt. is an IATF 16949, ISO 45001 and ISO 14001 certified, RoHS compliant Indian manufacturing company which is one-stop for all your Clamping requirements. We are over 5 decade-old, young company catering JOLLY brand clamping solution to over 80% of OEM and Aftermarket in India and many institutional customers globally. We are a proud Indian clamp manufacturer who specializes in customized clamps and believe in lowest lead time.
JOLLY CLAMPS
Enquiry Now
Connect with us today for the best-in-class customized clamping solutions!