Constant Tension Heavy Duty Worm Drive Clamp-Lined (WTL)
---
Jolly Abrazadera (WTL) es diseñado para adaptarse aplicaciones pesadas, a donde cambio térmico y fuerza es muy significante. Acción de resorte de Belleville pila de lavadora acomoda los cambios y previene aflojamiento y pérdida de abrazadera, por aumenta y disminución en diámetro de articulación.
---
Jolly Abrazadera (WTL) con Presión constante es diseñado como el estándar de SAE para aplicaciones pesadas, a donde cambio en diámetro de manguera por térmico y Variaciones de Fuerza es es muy significante.
Jolly Abrazaderas (WTL) HD operan en el principio de acción de engranaje de tornillo, a donde acción engranaje entre perforación perforada limpia y el hilo de tuerca de cabeza HEX se apoyan apretando y aflojamiento de abrazaderas en la aplicación.
Bellleville pila de lavadora con presión constante compensa para variación en fuerza y temperatura en línea de manguera, eliminando la posibilidad de aflojamiento del apretón de abrazadera en manguera y previene filtración.
La construcción deDos -carcasas de piezas fuerte y rígida aseguran la adaptación de abrazadera para instalación de Torque hasta 8.5 Nm y el último Torque hasta 11.5Nm, mientras linear previene contacto directo de perforaciones con manguera, que previene mordiendo de manguera a instalación de Torque alto.
Jolly HD Abrazadera de Presión alto es disponible en opción del Rango de diámetro ancho y combinaciones de varios grado de material, para adaptarse más mejor la aplicación.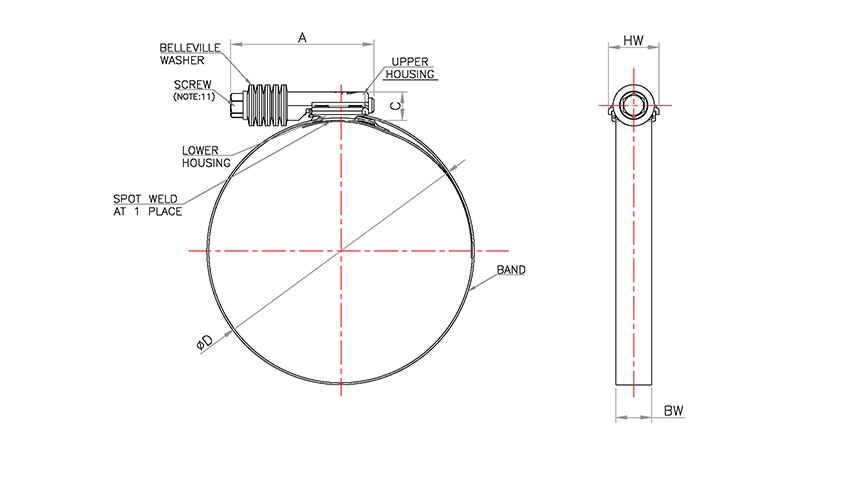 Jolly Heavy Duty Constant Tension Lined Worm Drive Clamp series products are made with material grade of AISI or equivalent global standards to provide high quality & consistency in performance.
Heavy Duty Constant Torque Worm Drive Clamps are available in entirely SS300 grade series as well as available in SS316 grade which is suitable for Marine applications.
Jolly Constant Tension HD Worm Drive clamps are also available in SS300 grade Series with a combination of screw made of material SS410 grade/ plated carbon steel with the option of Hexavalent & Trivalent.
Zinc plating as per Industry & Global Export Standards whereas Belleville washers are generally made in SS-300 series unless special requirement specified.
Industries and Applications
Jolly Heavy Duty Constant Tension Worm Drive Clamps serve in a wide variety of Heavy Duty industries while meeting industry specified demand & keeping edge over Quality product supplies. Our products commonly used industries and applications such as:

What Makes Jolly Different?
Prospect Engineering Works is an IATF 16949, ISO 45001 and ISO 14001 certified, RoHS compliant Indian manufacturing company which is one-stop for all your Clamping requirements. We are over 5 decade-old, young company catering JOLLY brand clamping solution to over 80% of OEM and Aftermarket in India and many institutional customers globally. We are a proud Indian clamp manufacturer who specializes in customized clamps and believe in lowest lead time.
JOLLY CLAMPS
Enquiry Now
¡Conéctese con nosotros hoy para obtener las mejores soluciones de sujeción personalizadas de su clase!