Jolly V-clamp with connecting link is designed as per customized requirement to connect Metal flanges with gaskets in medium duty applications.
V-clamp is made of weld-free two V-Petal construction connected to each other with the help of connecting link construction which enables quick & easy installation of clamp on assembly.
This makes the clamp most suitable for EGR Tube fitting. Bolt & Nut mechanism is used to fix & tighten the clamp on assembly
Jolly V-clamp is available with several standard sizes frequently used in V-Profile.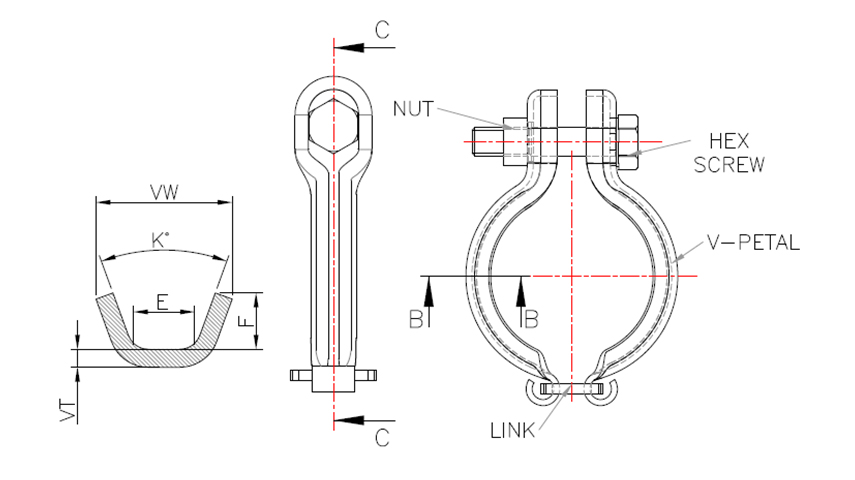 Jolly V-Clamp series products are made with material grade of AISI or equivalent global standards to provide high quality & consistency in performance.
V-clamps are available in the entire SS300 grade series for high value high performance applications.
Jolly V-Clamps are also available in SS300 grade Series with a combination of plated carbon steel parts as per customer requirement.
Zinc plating or Silver Plating is done for all carbon steel parts as per Industry & Global Export Standards.
Industries and Applications
Jolly V-Clamps serve in a wide variety of industries while meeting the required goal to connect medium duty metal flanges in high value & high performance applications. Our products commonly used industries and applications such as:



What Makes Jolly Different?
Prospect Engineering Works is an IATF 16949, ISO 45001 and ISO 14001 certified, RoHS compliant Indian manufacturing company which is one-stop for all your Clamping requirements. We are over 5 decade-old, young company catering JOLLY brand clamping solution to over 80% of OEM and Aftermarket in India and many institutional customers globally. We are a proud Indian clamp manufacturer who specializes in customized clamps and believe in lowest lead time.
JOLLY CLAMPS
Enquiry Now
Lorem ipsum dolor sit amet, consectetur adipiscing elit. Nulla mauris dolor, gravida a varius blandit,