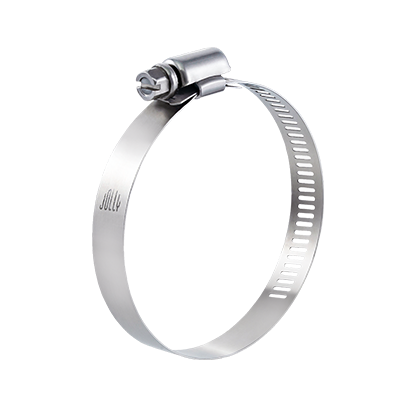 Stainless Steel Worm Drive Clamp (WP)
---
Jolly Perforated Worm Drive clamp is designed to suit Medium duty applications & currently serving a wide variety of Auto & Non-Auto OEMs as well as the Replacement market. Simple design & suitability to accommodate high level of customization makes this clamp more popular in every segment of industrial applications.
---
Jolly stainless steel Perforated Worm Drive Clamp is designed as per SAE standard & is suitable for medium duty non-throbbing surfaces.
Jolly Perforated clamp works on principle of Worm Gear action where gearing action between clean punched perforations & thread of Hex Head Screw enables tightening or loosening of clamp on the application.
With simple three piece construction Jolly SS Worm Drive clamp is available in a wide range of bandwidth options ranging from 9mm to 16mm, which makes this type of clamp more flexible for all types of area of medium duty applications.
Jolly Perforated worm drive clamp is available in wide diameter range & various material grade combination to best suit the application which makes it widely used clamp in all area applications ranging from Domestic to Heavy Industry.
Jolly SS Perforated Worm Drive Clamps are made with material grade of AISI or equivalent global standards to provide high quality & consistency in performance.
Jolly Worm Drive Clamps are available in entirely SS300 grade series as well as available in SS316 grade which is suitable for Marine applications.
Jolly SS Worm Drive clamps are also available in SS200 grade Series with a combination of screw made of material SS300 series/ SS410 grade/ plated carbon steel with the option of Hexavalent & Trivalent Zinc plating as per Industry & Global Export Standards.
Industries and Applications
Jolly SS Perforated Worm Drive Clamps serves in a wide variety of industries as well as in the area of Aftermarket Supplies while meeting industry specified demand & keeping edge over Quality product supplies. Our products commonly used in industries and applications such as:




What Makes Jolly Different?
Prospect Engineering Works is an IATF 16949, ISO 45001 and ISO 14001 certified, RoHS compliant Indian manufacturing company which is one-stop for all your Clamping requirements. We are over 5 decade-old, young company catering JOLLY brand clamping solution to over 80% of OEM and Aftermarket in India and many institutional customers globally. We are a proud Indian clamp manufacturer who specializes in customized clamps and believe in lowest lead time.
JOLLY CLAMPS
Enquiry Now
Lorem ipsum dolor sit amet, consectetur adipiscing elit. Nulla mauris dolor, gravida a varius blandit,