T-Bolt Hose Clamp Solution Germany
According to SAE requirements, we provide stainless steel T Bolt Clamp of the finest quality. They represent the pinnacle of technology and engineering. We put them through performance and sturdiness tests to make sure they can withstand repeated usage in a variety of settings, including autos, large trucks, duct connections, industrial machinery, radiators, irrigation, and other fields.
Jolly is one of the top t bolt hose clamp manufacturer of India, which also holds a commanding global market share and is ranked amongst the prime as a t bolt hose clamp supplier in Germany. By providing a one-stop clamping solution for each of our customers' specific demands, we maintain the superiority of t bolt clamps across Germany.
How does T Bolt Clamp work?
A T Bolt Clamp is constructed using a stainless steel band which is then assembled using a forged T Bolt, thereby earning its name. It is used to restrain/hold any shape components. It is commonly used in industrial processes involving high vibrations, where the T Bolt prevents the reopening of the clamp during vibration. For manufacturing, we use the highest quality stainless steel to ensure durability and design the clamp for enhanced flexibility. This allows seamless applications for our customers, who, in turn, trust us as the best Bolt Hose Clamp manufacturer in India.
Why Jolly T Bolt Hose Clamps?
We are one of the most trusted T Bolt suppliers in India. We are promoters of precision and perfection. To uphold this commitment, we provide the highest quality clamping solutions for our customers' requirements. Our top-notch fastening solutions ensure that customers get a complete solution, earning us recognition among the best Hose Clamp Fasteners manufacturers in India.
Jolly Clamps, one of the leading T Bolt Clamp manufacturers in India, offers customized clamping solutions for a diverse set of applications in various industries. Here are the types of T Bolt Clamps we manufacture for our customers:
Spring Loaded T Bolt Clamps (TS)
Heavy Duty Spring Loaded T Bolt Clamp (HTS)
T Bolt Clamp With Fixed Bridge (TX)
T Bolt Clamp With Floating Bridge (TL)
Other Clamping Solutions
Worm Drive Clamps
As a leading Worm Drive Hose Clamp manufacturer, we offer the highest quality Worm Drive Clamps to our customers. Custom-designed to meet unique industry needs, they find enhanced usage in automotive, agricultural, food & beverages, oil & gas industries, etc. These meet the SAE standard and are designed to stand all tests of durability and strength.
V Band Clamps
We custom-design V Band Clamps to provide a 360-degree solution for a customer's unique requirements. Due to the perfection of this craft, we are now regarded as one of the leading V Band Clamp manufacturers globally. Our custom-designed V Band Clamps find diverse applications in various industries. Predominantly, they are used to join piping, tubing, closures, separators, regulators, filter containers, turbochargers, engine joints.
Customized Clamps
A Custom Hose Clamp finds applications in processes where customers require various Clamp sizes and customizations. Different types of Customized Clamps are used in automotive systems, clamping lines in plumbing and specialized use in many everyday things. Our Custom Hose Clamp solutions include Barrel Clamp (BC), P-Clip (PC), Rectangular Double T Bolt Clamp (RCTX), and Oblong spring loaded Double T Bolt Clamp (OBTS).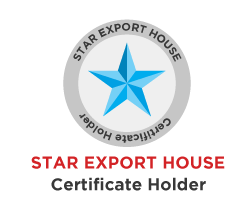 A Government of India
Recognised Star Export House
We live by our commitment to our clients.
Unmatched Quality:
With unmatched quality assurance backing our production,delivery & ongoing services, we believe in leveraging the tech-driven inventory & production management systems.
Exceptional Service:
At Jolly, we consider our clients to be partners. By paying them the attention they deserve and thoroughly getting to know their businesses, we give our customers the security they need.
Rapid Delivery:
With a government recognized star export house, we effectively take shipping and delivery speed to the next level since we never run out of stock while keeping your supply chain in mind.