V Band Hose Clamp Solution Canada
Jolly is one of the top V band clamp manufacturers in India. For the best possible performance and consistency, the Jolly V Band Hose Clamp series is built with AISI material grade and corresponding international standards. We are one of the top V band clamp suppliers in the world, providing 360 degree clamping solutions for connecting heavy duty metal flanges in high value and high performance applications to a variety of industries. To attach piping, tubing, closures, separators, regulators, filter containers, turbochargers, and engine couplings for our clients, we create these clamps specifically for them.
Our mission is to provide a one-stop shop for all of our customers in the OEM and aftermarket globally as the top hose clamp manufacturer in India. To do this, we offer uniquely tailored clamping solutions for every one of our clients in order to streamline their applications.
How does the V Band Hose Clamp work?
A V Band Hose Clamp is used in engines, aerospace, turbochargers, petrochemicals, exhaust systems, marine operations, Genset applications and food & chemical processing equipment to connect heavy duty metal flanges. It provides fast and secure coupling for connecting flanged joints. It uses the principle of wedging action to clamp flanges with the help of V Petal & is suitable to sustain high burst pressure of Exhaust with the help of high Axial clamp force. We custom design V Band Clamps for customer requirements to make sure you get a 360-degree clamping solution at Jolly Clamps.
Why Jolly V Band Hose Clamps?
We have come to be known among the leading V Band Clamp suppliers because our V Band Clamps are available in the entire SS300 grade series. The series is also available in a combination of SS200 grade steel or plated carbon steel parts for custom requirements. Zinc plating is done for all carbon steel parts as per Industry & Global Export Standards. Here are the types of V Band Clamps we manufacture:
V Band Coupling Clamp (TV)
Saddle Type Quick Release V Band Clamp (QTV)
Diesel Particulate Filter (DPF) V Band Clamp (DTV)
Allen Bolt Quick Release V Band Clamp (AVB)
V Clamp with connecting link (VCL)
V Clamp (VC)
Other Clamping Solutions
Worm Drive Clamp
Our Worm Drive Hose Clamp design follows the SAE standard. They are available in the entire SS300 grade series as well as in SS316 grade, which is suitable for Marine applications. Custom-designed Worm Drive Clamps find enhanced usage in automotive, agricultural, food & beverages, oil & gas industries, etc.
T Bolt Clamp
Jolly T Bolt Clamps follow SAE standards to provide high strength applications to our customers constantly. Depending on customers' requirements, we manufacture T Bolt Clamps in different material grades for superior performance. Today, we are one of the leading T Bolt Clamp suppliers in India, providing clamping solutions in automobiles, heavy trucks, duct connections, industrial machinery, radiators, irrigation and other industries.
Couplings
Jolly, a leading Coupling manufacturer in India, provides customers with a series of products made with AISI or equivalent global material grades and standards. They serve pumping applications, HVAC applications and sewage and waste management applications.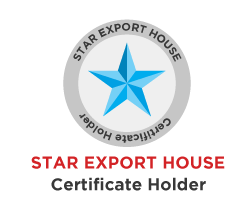 A Government of India
Recognised Star Export House
We live by our commitment to our clients.
Unmatched Quality:
With unmatched quality assurance backing our production,delivery & ongoing services in the US, we believe in leveraging the tech-driven inventory & production management systems.
Exceptional Service:
At Jolly, we consider our clients to be partners. By paying them the attention they deserve and thoroughly getting to know their businesses, we give our customers the security they need.
Rapid Delivery:
With a government recognized star export house, we effectively take shipping and delivery speed to the next level since we never run out of stock while keeping your supply chain in mind.