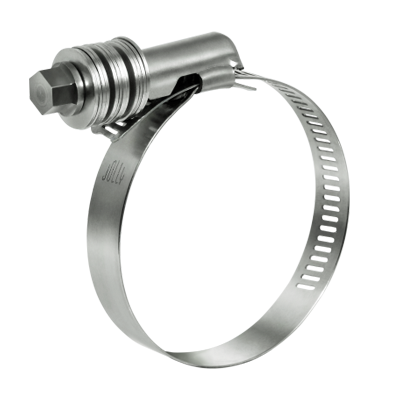 Constant Tension Worm Drive Clamp-WC
---
Jolly Constant Tension Worm Drive clamp is designed to suit Medium duty applications where thermal fluctuation is a key concern. Spring action of Belleville washer stack accommodate the thermal fluctuations & prevents loosening or loss of clamp load due to increase/ decrease in joint diameter
---
Jolly Constant Tension Worm Drive Clamp is designed as per SAE standard for Medium duty applications where fluctuation in hose diameter due to thermal variation is key concern.
Constant Tension Worm Drive clamp works on principle of Worm Gear action where gearing action between clean punched perforations & thread of Hex Head Screw enables tightening or loosening of clamp on the application.
Spring Action of Belleville Washer maintains constant band tension on hose while eliminating chances of loosening of clamps grip on hose & avoid seepage.
Jolly constant Tension clamp is available in a wide diameter range option & various material grade combination to best suit the application.
Jolly Constant Tension Worm Drive Clamp series products are made with material grade of AISI or equivalent global standards to provide high quality & consistency in performance.
Constant Tension Worm Drive Clamps are available in entirely SS300 grade series as well as available in SS316 grade which is suitable for Marine applications.
Jolly Constant Tension clamps are also available in SS200 grade Series with a combination of screw made of material SS300 series/ SS410 grade/ plated carbon steel with the option of Hexavalent & Trivalent Zinc plating as per Industry & Global Export Standards.
Industries and Applications
Jolly Constant Tension Worm Drive Clamps serves in a wide variety of industries while meeting industry specified demand & keeping edge over Quality product supplies. Our products commonly used industries and applications such as:

What Makes Jolly Different?
Prospect Engineering Works is an IATF 16949, OHSAS 18001 and ISO 14001 certified, RoHS compliant Indian manufacturing company which is one-stop for all your Clamping requirements. We are a 52-year-old young company catering JOLLY brand clamping solution to over 80% of OEM and Aftermarket in India and many institutional customers globally. We are a proud Indian clamp manufacturer who specializes in customized clamps and believe in lowest lead time.
JOLLY CLAMPS
Enquiry Now
Lorem ipsum dolor sit amet, consectetur adipiscing elit. Nulla mauris dolor, gravida a varius blandit,