As technology continues to advance, we are constantly discovering new tools and applications that change the way we work and live. One of the most exciting developments in recent years has been the emergence of artificial intelligence (AI), and in particular, language and image processing tools like Chat GPT and DALL-E. These tools are incredibly powerful and can be used in a variety of ways to enhance productivity, creativity, and problem-solving. In this blog post, we'll take a closer look at these emerging technologies and how we at Jolly Clamps had an exhilarating experience playing with this technology.
1. The Talkative tech: Chat GPT –
Chat GPT, short for "Generative Pre-trained Transformer 3," is a language model that allows us to have conversations with computers using natural language. It is developed by OpenAI, a company at the forefront of artificial intelligence research. It uses machine learning to understand what we're saying and respond in a way that makes sense. To use it, we simply type in a message, and Chat GPT will respond as if it were a real person. It's really amazing to see how realistic the conversations can be, and it's exciting to think about how this technology could be used to improve customer service or even create virtual assistants that could help us with everyday tasks. Beyond Chit chatting it can also be used for certain coding-related applications too wherein just by giving a prompt it serves ready to copy code to you in your preferred programming language as well. We here at Jolly clamps got our hands dirty playing with this Chatterbox by testing its knowledge related to Hose clamps & the Automotive Industry.
Here are some excerpts from our Chat history: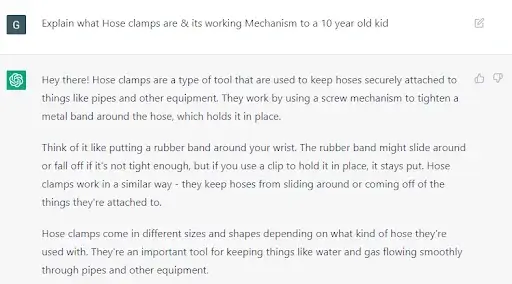 2. DALL-E: The AI Picasso in Your Pocket!
DALL-E is even cooler because we can make the computer create pictures for us based on the words, we type in. We can ask it to draw a cat wearing a hat, or a dragon flying in the sky, and it will use its magical machine-learning algorithm to make a picture that looks like what we asked for. It's amazing to see how quickly and accurately it can create pictures that look like they were drawn by a real artist. We explored this tool by creating some futuristic images of hose clamps & their machinery.
Figure 1- A world with Clamps
Figure 2- Some sci-fi 3-D models of Hose Clamps as imagined by AI-1
Figure 3- Some sci-fi 3-D models of Hose Clamps as imagined by AI-2
Figure 4- An oil Painting of a retro Hose clamp as Imagined by AI
Figure 5- How an advanced Hose clamp Making Machine would Look like
Figure 6- A Ferrari in B2 Bomber Style
3. Revolutionizing the Automotive Industry with AI-
Both Chat GPT and DALL-E are indeed exciting as they represent cutting-edge artificial intelligence research. It's amazing to think about how much progress has been made in this field in just the past few years, and it's even more exciting to think about what kind of applications these technologies could have in the future. From virtual assistants to personalized content creation to medical diagnoses, the possibilities are endless, and it's exciting to think about what kind of impact these technologies could have on the entire Automotive Industry.
A few of the use cases of these technologies include –
Ideation & Prototyping – Chat GPT could assist in the ideation process by generating a wide range of possible designs and concepts for new vehicles, components, or features. Meanwhile, DALL-E can be used to generate photo-realistic images of vehicles or components which could help designers quickly visualize and iterate on their designs, reducing the time and cost involved in physical prototyping.
Optimization- Chat GPT could be used to optimize existing designs, manufacturing processes, supply chains, operations & logistics by analyzing performance data and suggesting improvements.
Virtual, Augmented reality & AI- DALL-E could be used to generate 3D models of vehicles or components for use in virtual or augmented reality applications. This could enable customers to interact with vehicles in a more immersive way & also improve the accessibility and effectiveness of training programs for automotive industry professionals.
Autonomous driving- AI is a critical component of self-driving cars, enabling vehicles to perceive and understand their surroundings, make decisions, and navigate safely and efficiently.
Predictive maintenance- AI can be used to analyze data from sensors and other sources to detect potential problems in vehicles before they occur. This can help to prevent breakdowns and reduce maintenance costs.  And Many More.
Of course, as with any emerging technology, there are still limitations and areas for improvement with both Chat GPT and DALL-E. However, the progress that has been made in recent years is truly remarkable, and the potential applications of these tools are endless. Now it is on to us as to how we adapt & make use of this boon and stay ahead of the technological curve to be successful in the years to come.
Tech Tips-
Below are the Top AI Tools to use, don't forget to check them out.