Worm Drive Hose Clamps Solution USA
Our SS worm drive hose clamps are made in accordance with SAE specifications. For particular uses in the automobile, heavy engine, irrigation, marine, railway, tractor, electrical cable couplings, chemical, and pharmaceutical industries, we create worm drive hose clamps on a custom basis.
Because we serve as a one-stop shop for all of their clamping needs, our clients name us as the best worm drive clamp & worm drive hose clamp manufacturer.
How does Worm Drive Clamp work?
Being one of the top exporters of clamps to USA, we have mastered the art of producing worm drive hose clamps. To ensure that the clamp withstands all durability and strength testing, we only employ the best materials and cutting-edge technologies throughout manufacturing. It has four parts: the captive screw, the housing, the band, and the overlap. The band is tightened around the hose when the screw is rotated because it functions as a worm drive and pulls the threads of the band. The band can be loosened by rotating the screw in the opposite direction.
Why Jolly SS Worm Drive Hose Clamp?
Our worm drive clamps are expertly built and constructed from premium stainless steel. They are great for international OEMs because they are specifically created to match your needs. They are used more frequently across the US in the oil and gas, automotive, agricultural, food and beverage, and other industries because of their cutting-edge adaptability and performance capability.
Types of Worm Drive Clamps
Heavy Duty Stainless Steel Worm Drive Clamp (WHL)
Constant Tension Heavy Duty Worm Drive Clamp-Lined (WTL)
Two Way Serrated Clamp (FD)
Stainless Steel Worm Drive Clamp (WP)
Mini Clip (WM)
One Way Serrated Clamp (FS)
Quick Release SS Worm Drive Clamp (WQ)
Worm Drive Serrated Clamp (WN)
One Way Serrated Spring Insert Clamp (SFS)
Special Pierced Serrate Clamp
Stainless Steel Worm Drive Clamp Lined (WL)
Dual Bridge SS Worm Drive Clamp (BCL/BCR)
Other Clamping Solutions
Bolt Hose Clamp
We are the leading bolt hose manufacturer in India. These hose clamps have a stainless steel band which is assembled by a bolt. They are a testament to our perfection of technology, featuring high durability and enhanced performance capacity. These qualities can be leveraged for applications in automobiles, heavy engines, irrigation, marine, railways, tractors, electrical cable joints, chemical and pharmaceutical industries.
V Band Clamp
Custom-designed V Band Clamps have a diverse range of applications. They are used to join piping, tubing, closures, separators, regulators, filter containers, turbochargers, engine joints, etc. Because of our perfection of technology, we have mastered the craft of fulfilling our customers' unique needs, giving us a position among the globally leading V Band suppliers.
Customized Clamp
We are expert customized clamp manufacturers in India, serving as a one-stop solution for our customers' unique clamping requirements. Custom requirements are predominant in automotive systems, clamping lines in plumbing and specialized use in many everyday things.
Flexible Coupling
Flexible couplings are used to transfer torque between misaligned shafts. They are also used for vibration damping and noise reduction. Our use of the highest quality material and advanced technology allows for perfect application, making us one of the best flexible coupling manufacturers in India.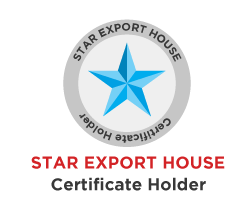 A Government of India
Recognised Star Export House
We live by our commitment to our clients.
Unmatched Quality:
With unmatched quality assurance backing our production,delivery & ongoing services in the US, we believe in leveraging the tech-driven inventory & production management systems.
Exceptional Service:
At Jolly, we consider our clients to be partners. By paying them the attention they deserve and thoroughly getting to know their businesses, we give our customers the security they need.
Rapid Delivery:
With a government recognized star export house, we effectively take shipping and delivery speed to the next level since we never run out of stock while keeping your supply chain in mind.